I typically find my inspiration for different pieces from the junk metal I have. My Mission statement is "Inspiring others while giving junk metal new life."
-JD
I started to weld as part of the 4-H Bucket of Junk Challenge a few years ago. The first piece I created was one that I called "Herky or Cy?". My parents were in awe of what I created out of a bucket of junk.
The next year, I created a beagle and a bunny. And most recently, I created a tractor from the bucket of junk.
My parents bought me a welder and welding equipment for Christmas 2019, which I started to use right away. Once Covid 19 hit and schools were cancelled, I started welding even more. I took one of my first pieces, the "Iron Indian", to the high school art show at Arts on Grand and it won the "Curator's Choice Award" and was the first piece of art that I sold. I am blessed to have supportive parents who encourage and help me use my creativity.
I came to live with my Mom and Dad when I was 27 months old as part of the foster care system. My biological sister, Chloe and I were adopted by them a few years later. I also have a younger brother, Nate and two beagles at home. My entire family enjoys helping me with my welding. My Mom created a Facebook page called JD's Creations and posts and sells my pieces there. Both my Mom and Dad help me polish and clean the pieces of junk before and after I weld them. I've even taught my Mom, younger sister and brother to weld. I really enjoy working with my family on my different projects – it has brought us all closer together. I am very blessed and thankful that I get to do what I love. My Mom believes that God has a plan for me according to Jeremiah 29:11 – "I know the plans I have for you, to prosper you and not to harm you, plans to give you hope and a future."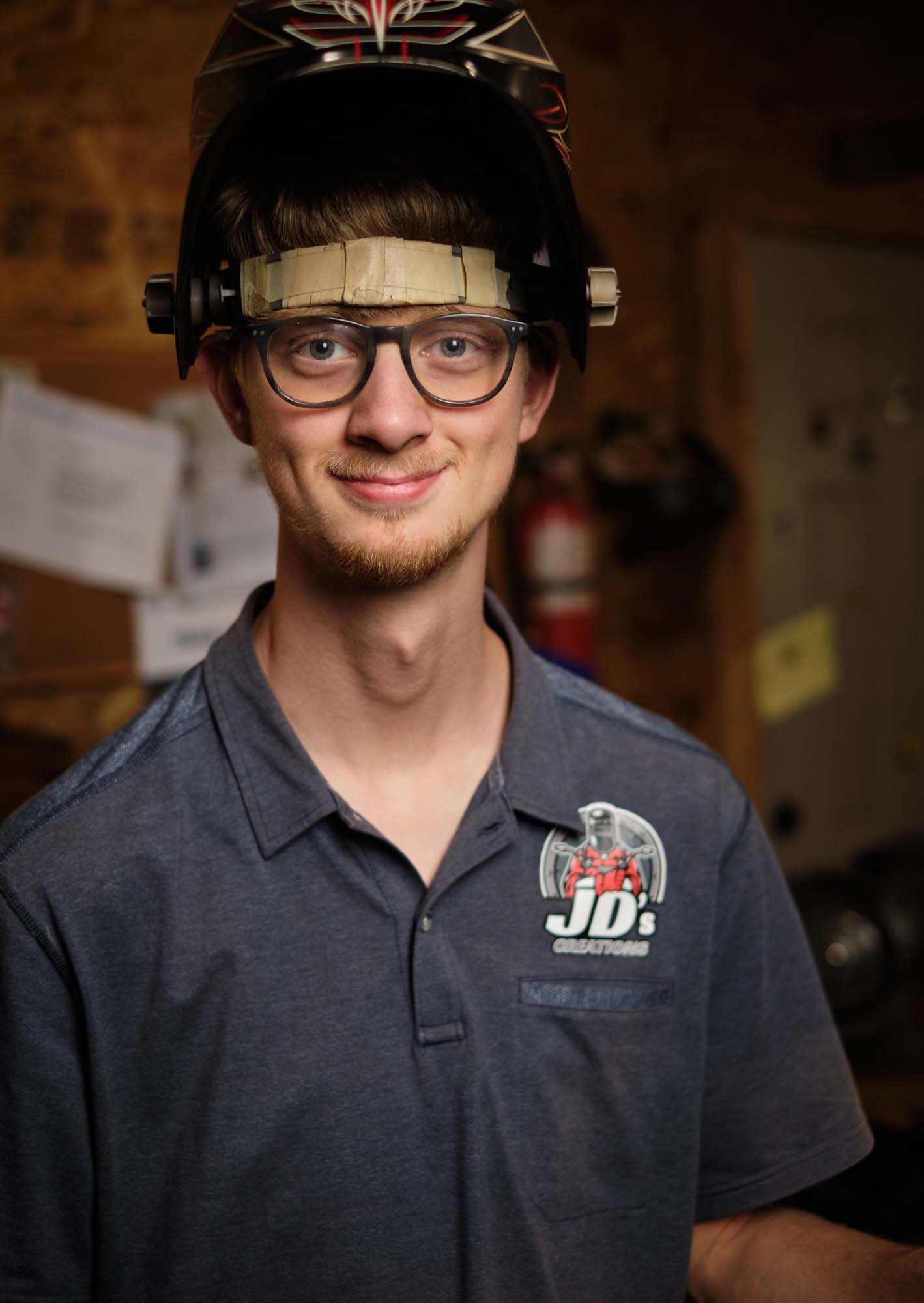 Meet the artist behind the
flame.
Hi, my name is JD Bumgarner and I have Cerebral Palsy and a learning disability, but that has not stopped me from finding my passion, which is
being creative
.
I have always been interested in designing and drawing things. Even when I was little, I would help my Dad put things together without having to look at the directions, which is a good thing since I have trouble reading. School and learning, especially math, reading and writing have always been hard for me because of my Cerebral Palsy, which is a brain injury.
Cerebral Palsy, because it is a brain injury, makes it harder for me to process information quickly, which is why my favorite types of classes have always been art classes, where I get to use my creativity.
I enjoy finding new ways of being creative and was excited to discover welding.
My parents already knew that I was very creative and good at designing things on paper, but now I had a new way to be creative through welding. I have learned that my brain works differently, which isn't a bad thing because it helps me see and create art out of buckets of junk. I like to think that I am giving new life to junk that would have been thrown away, which is why my mission statement is "giving junk metal new life, while inspiring others." This connects to my favorite Bible verse, Romans 6:23 – "For the wages of sin is death, but the gift of God is eternal life in Christ Jesus our Lord." God gave me new life and I like to repurpose old junk and give it a new purpose.
I'm looking forward to Saturday, July 8, because I'll have my creations at the Clay County Fair as Arts on Grand hosts a BBQ competition....
read more